This recipe is part of our collection of Everyday Chinese Meals. Sign up for our newsletter to receive family-friendly activity, recipe and craft ideas throughout the year!
This Memorial Day weekend, my family had plans to BBQ in the shade of a beautiful stand of Northern California redwoods. On the day that kicks off America's annual BBQ season amidst military honors and baseball games, I wanted to see if I could make a distinctly Chinese contribution to the holiday mix.
I achieved my goal by grilling spareribs over charcoal with BBQ sauces incorporating three traditional Chinese flavors: honey-sweet char siu, tangy hoisin sauce and salty fermented black beans.
The results were outstanding. The spareribs burst with instantly familiar Chinese flavors, combined with a charcoal smokiness that would make any Weber grill traditionalist smile.
Our Char Siu BBQ Sauce spareribs were pleasingly salty, with a deep earthiness from the recipe's bean sauce. A honey glaze produced a bright, sweet finish that was more subtle and nuanced than what you'll find at Chinatown BBQ joints.
Our Hoisin BBQ Sauce spareribs were sweet and tangy, a flavor combination will probably taste most familiar to those accustomed to a Western sauce. This sauce also produced the nicest exterior glaze.
Our Black Bean BBQ Sauce spareribs were full of vinegar, garlic and chili heat. The complex flavor palette will surely please those who love traditional Chinese BBQ.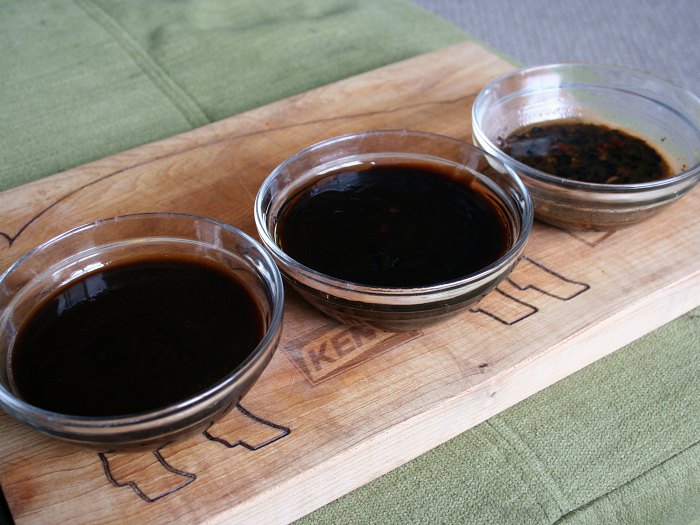 Each of the BBQ sauce recipes below will provide enough sauce for a full rack of spareribs. Preparing the BBQ sauces takes about 15 minutes apiece, though you'll need to set aside an afternoon to prepare the ribs themselves.
1. Combine all BBQ sauce ingredients in a small sauce pan. Bring to a boil, reduce heat to low and simmer for 5 minutes. Set aside and allow to cool.
2. Combine the BBQ sauce and ribs in a gallon plastic bag and seal. Refrigerate for at least four hours, up to overnight.
3. Wrap ribs in aluminum foil and bake on a sheet at 350 degrees for one hour. Reserve the remaining BBQ sauce.
4. Unwrap the ribs and grill over charcoal for 12-15 minutes per side, basting generously with BBQ sauce.
5. For the char siu only, finish by basting with the honey glaze and grilling for an additional 3 minutes per side.
These BBQ sauces worked great with spareribs and could also be used with other cuts of pork. Best of all, the flavors pair really well with cold beer, whether you're drinking Tsingtao or Samuel Adams.
Your turn! What tips can you share from your family's recipe? Want to ask a question before you start cooking? I'd love to hear from you in the comments section below!
---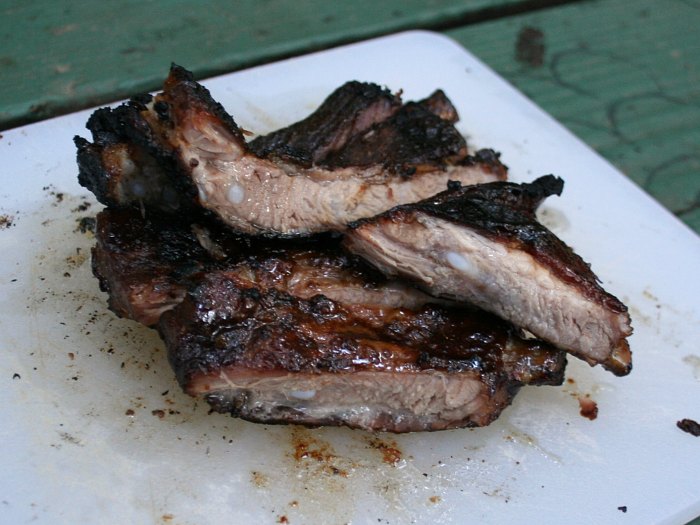 Char Siu BBQ Sauce
2 tablespoons soy sauce
1 tablespoon dark soy sauce
1 1/2 tablespoons ground bean sauce
1 1/2 tablespoons oyster sauce
2 tablespoons hoisin sauce
4 tablespoons Shaoxing rice wine
1 tablespoon sugar
1/2 tablespoon kosher salt or 1/3 tbsp table salt
1 teaspoon five spice powder
1 teaspoon garlic powder
Honey Glaze:
4 tablespoons honey
1 tablespoon sugar
3 tablespoon water
HT: Adapted from Yi Reservation.
---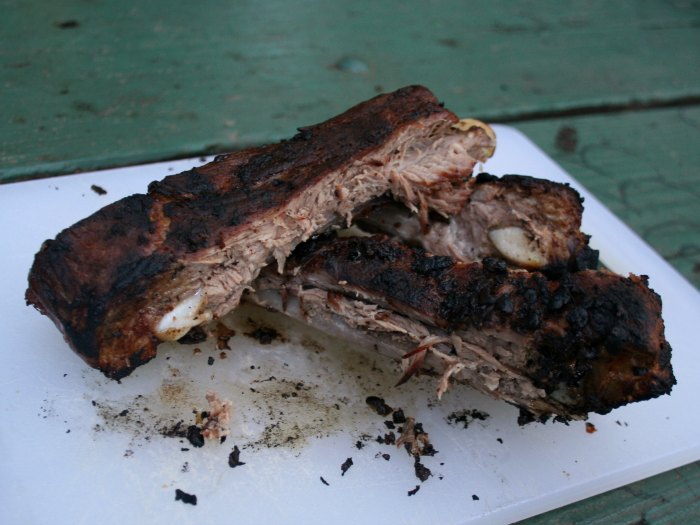 Hoisin BBQ Sauce
2 teaspoons vegetable oil
2 garlic cloves, minced
1/2 cup hoisin sauce
1 tablespoon light soy sauce
3 tablespoons sake
1 tablespoon ketchup
1 tablespoon rice vinegar
1/2 teaspoon sesame oil
HT: Adapted from Food and Wine.
---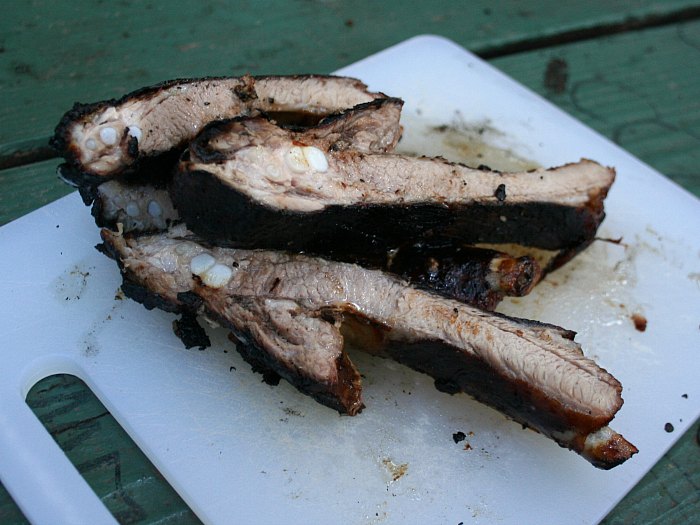 Black Bean BBQ Sauce
4 tablespoons fermented black beans, mashed
2 teaspoons garlic, minced
2 teaspoons ginger, minced
4 tablespoons dark soy sauce
2 small red chili peppers, chopped
2 cups chicken broth
2 tablespoons Shaoxing rice wine
2 teaspoons brown sugar
HT: Adapted from Rhonda Parkinson.