This recipe is part of our collection of Chinese holiday and festival foods. Sign up for our newsletter to receive family-friendly activity, recipe and craft ideas throughout the year!
Though mooncakes are undeniably the Mid-Autumn Festival's signature pastry, the lesser-known "picture pastry" or "mooncake biscuit" known as kung chai peng in Cantonese shouldn't be forgotten. Made at home, they're a fun afternoon baking project that's perfect to undertake with kids at the kitchen counter.
Picture pastries are cookies made entirely from the dough that forms the outer skin of a mooncake. They're sweet, chewy and generally sold in Chinese bakeries in fun shapes like fish or other animals. Picture pastries are beloved by children and make a great addition to your Mid-Autumn Festival celebration.
Like mooncakes, picture pastries are traditionally formed using wooden molds to create different shapes. You can find these molds at restaurant supply shops in Chinatown or online at Amazon. Alternatively, you can also use any cookie cutter that you have around the kitchen.
Picture pastries start with Golden Syrup, the honey-like sugar syrup that's also the foundation of mooncake pastry. You'll need 90 minutes earlier in the day to get the Golden Syrup on the stove.
When you're making the Golden Syrup and later baking your picture pastries, the most important advice is to avoid overcooking. Remove the Golden Syrup from the stove as soon as it caramelizes, otherwise it will turn into an unworkable candy-like substance as it cools. Along the same lines, don't over-bake your cookies, otherwise they'll become too hard to eat. In both cases, "just cooked" will do.
The final thing to note is that your picture pastries aren't ready to eat when they come out of the oven. They need to sit in an airtight container for 3-4 days for the Golden Syrup to mature and soften the cookies. Make sure to incorporate this into your overall holiday planning.
Here's how to make Mid-Autumn Festival picture pastries, step-by-step. The detailed tutorial with pictures and directions is at the bottom of the page.
Your turn! What tips can you share from your family's recipe? Want to ask a question before you start cooking? I'd love to hear from you in the comments section below!
---
Picture Pastries (Kung Chai Peng) Recipe
Makes: 20 Cookies | Prep Time: 5 Hours | Cook Time: 30 Minutes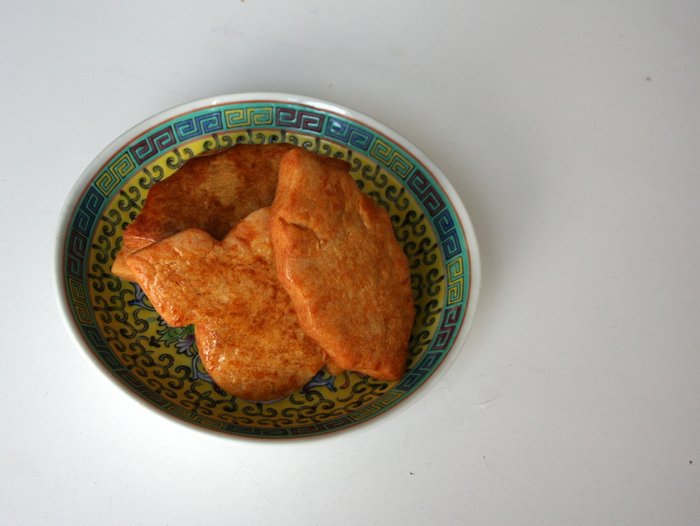 Ingredients
Golden Syrup:
1 1/4 cups sugar
3/4 cup water
1/4 lemon
Picture Pastries:
1 cup Golden Syrup
4 cups flour, sifted
1 teaspoon baking soda
1 tablespoon baking soda mixed with 1 tablespoon water
1 cup oil
1 egg yolk, beaten
Directions
1. The recipe begins by making Golden Syrup. Mix all the Golden Syrup ingredients together in a saucepan, bring to a boil and stir until the sugar dissolves. Reduce the heat to very low and simmer for 90 minutes, until the syrup caramelizes and turns golden brown with a honey-like consistency. Remove from the heat and set aside to cool. Pour the syrup into an airtight container and store until ready to use — it will keep for several months. Makes 1 cup.
2. To start making the picture pastries, combine the flour and baking soda in a mixing bowl. Gradually stir in the Golden Syrup, baking soda mixture and oil. Knead the mixture into a smooth dough, paying particular attention to spread the Golden Syrup evenly throughout the mixture. Place the dough back in the bowl, cover with plastic wrap and set aside for 3 hours.
3. You can use cookie molds or cookie cutters to make your cookies. On a lightly floured cutting board, divide the dough into 10-20 equal portions, depending on the size of your mold or cookie cutter. Shape the dough into cookies and place them on a lightly-greased baking sheet.
4. Bake the cookies in a 400 degree oven for 6 minutes. Remove and brush the top of the cookies with the beaten egg. Return the cookies to bake for another 6 minutes until golden. Allow to cool and then store in an airtight container for 1-2 days — this allows the Golden Syrup to mature and soften the pastry.
---
Step-By-Step Tutorial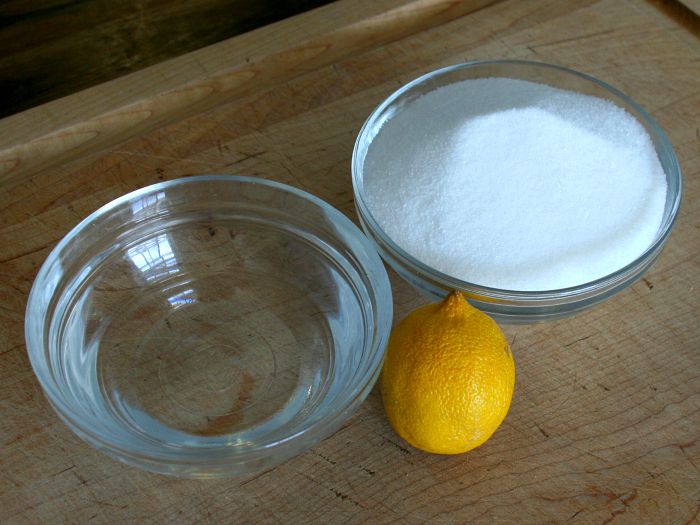 Start by making your Golden Syrup. You'll need sugar, water and a lemon. If you're also making mooncakes, you'll want to double this recipe and make a big batch.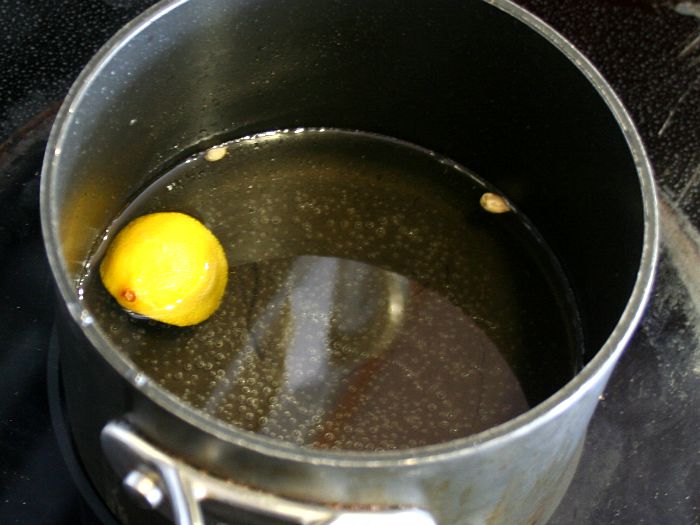 Mix the ingredients together in a pot and bring to a boil. Reduce the heat to very low and simmer for 1-2 hours, until the mixture caramelizes, turns golden brown and has a consistency like honey. I find this usually happens right around the 90 minute mark.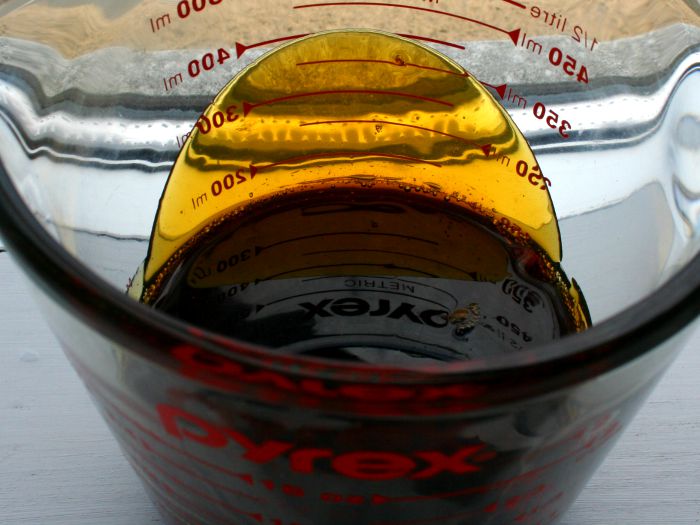 Here's what the Golden Syrup looks like as it cools. Get the syrup off the stove immediately once it caramelizes and let it cool. Don't overcook the syrup and create candy!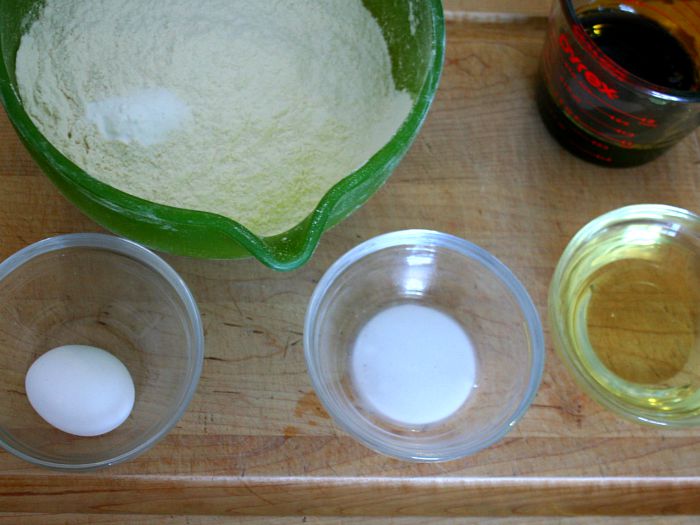 While the Golden Syrup is cooling, gather your other ingredients. Pretty simple — sifted flour, baking soda, a baking soda solution, oil, an egg and the Golden Syrup.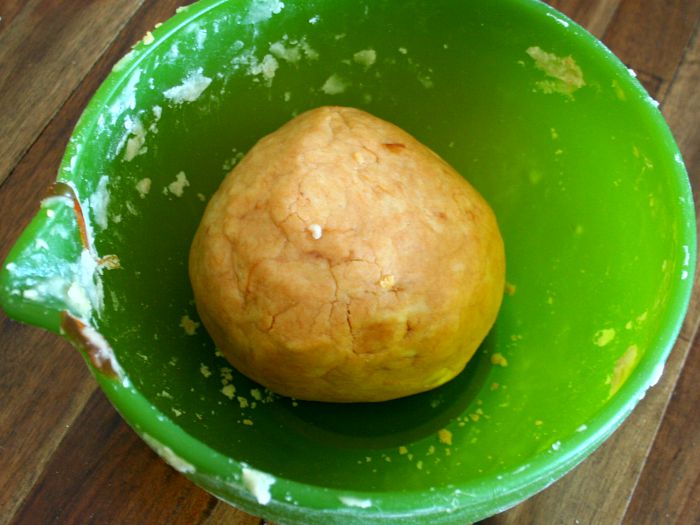 When the Golden Syrup is cool enough to work with, combine all the dough ingredients in a bowl and knead with your hands to form a ball of soft dough. Cover and set aside for 3 hours.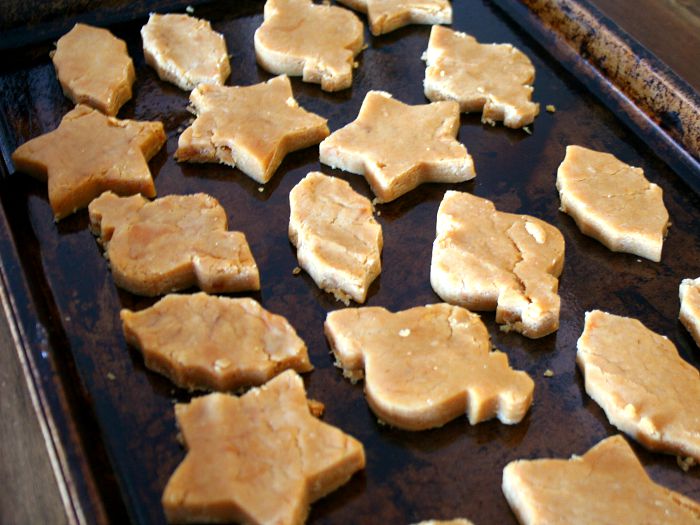 Now the fun part — this is a great time to grab the kids. Form the picture pastries by pressing the dough into your molds or by rolling the dough out to a 1/2 inch thickness and using cookie cutters. I used a combination of stars, sea shells and Chinese lanterns.
Bake in the oven for about 6 minutes. You're watching for "just-cooked" — if the cookies turn golden brown at this stage, they've gone too far. When you reach this point, remove the cookies and brush them with the beaten egg yolk. Return to the oven and bake for another 6 minutes. They'll finish with a warm golden sheen.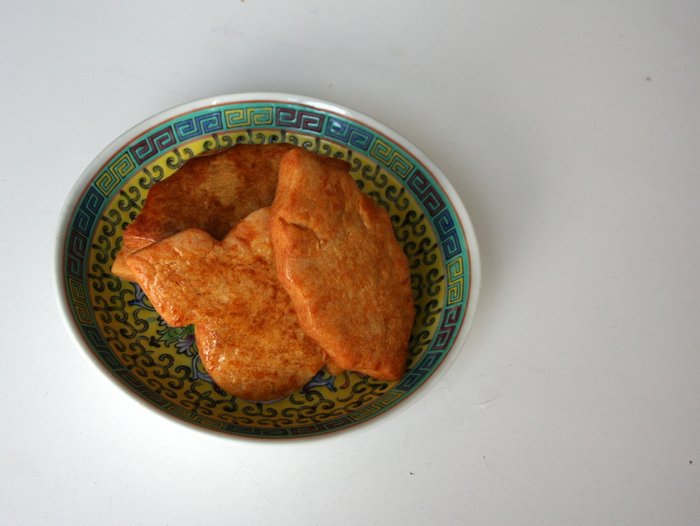 Here's what the cookies look like when they come out of the oven. Store them in an airtight container for 3-4 days and then they're ready to eat at your Mid-Autumn Festival celebration.
HT: Recipe adapted from Chinese Feasts & Festivals: A Cookbook.