This recipe is part of our collection of Chinese holiday and festival foods. Sign up for our newsletter to receive family-friendly activity, recipe and craft ideas throughout the year!
Longevity noodles are a must for any Chinese birthday party. Eating long, unbroken wheat noodles is thought to bestow the virtues of longevity and strength throughout a person's life. Consequently, longevity noodles are also popular additions to festival meals, when the entire family can receive the benefits of this good fortune.
During holiday times, a starchy dish like fried rice or noodles is served at the end of the meal to make sure no one leaves the table hungry. Just as children learn early not to waste even a single grain of rice, they're also taught never to break noodles while eating, as this is considered terribly unlucky.
If at all possible, make this recipe with fresh wheat noodles. They're frequently labeled at shops like the Yuen Hop Noodle Company here in Oakland as Shanghai-style noodles, though you'll also see them called yifu, yi mein or e-fu noodles. Just avoid rice noodles for this recipe, as they break much too easily.
This recipe is all about the prep work. You'll spend about 30 minutes right at the start chopping and slicing ingredients. It's a really good idea to grab your spouse or an older child to help out and speed along the process. Whatever you do, however, don't get frustrated and cut corners. Preparing the ingredients well will yield a much better result when it comes time to cook.
I love this braised longevity noodles recipe. The chewy noodles soak up the savory oyster and soy sauce broth, and each bite includes crunchy vegetables, shrimp and pork. I really hope you enjoy this meal, too.
Here's how to make braised longevity noodles, step-by-step. The detailed tutorial with pictures and directions is at the bottom of the page.
Your turn! What tips can you share from your family's recipe? Want to ask a question before you start cooking? I'd love to hear from you in the comments section below!
---
Braised Longevity Noodles Recipe
Makes: 4-6 Servings | Prep Time: 45 Minutes | Cook Time: 10 Minutes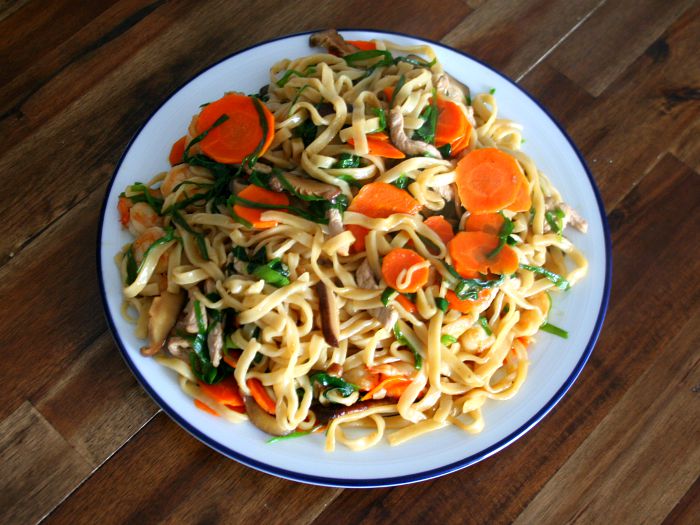 Ingredients
6 dried Chinese mushrooms
8 ounces fresh shrimp, peeled and deveined
7 ounces lean pork, sliced into match sticks
4 ounces Chinese chives, cut into 2″ lengths
4 leaves Chinese cabbage, shredded
1 medium carrot, thinly sliced
1 clove garlic, minced
1 pound fresh wheat noodles
2 tablespoons oil
1/2 cup mushroom soaking water
2 tablespoons soy sauce
1 tablespoon oyster sauce
1/4 teaspoon salt
1 teaspoon cornstarch, dissolved in 1 tablespoon water
Directions
1. Rub a dash of sugar into the peeled and deveined shrimp and set aside. Soak the Chinese mushrooms in hot water for 30 minutes until soft. Then drain, reserving 1/2 cup of the liquid, discard the stems and slice the caps into thin strips.
2. Boil a pot of water over high heat. Add the wheat noodles and cook for 2 minutes, stirring and loosening with a pair of chopsticks as they cook. Remove from the heat, plunge into a bath of ice water to cool, then strain and set aside.
3. Heat the oil in a wok over high heat until smoking. Stir fry the garlic for 30 seconds until fragrant. Add the shrimp and stir fry for 2 minutes until pink, then add the pork and vegetables and stir fry for another 2 minutes. Add the mushroom water and bring to a boil. Add the noodles, mix well and season with the soy sauce, oyster sauce and salt, then return to a boil. Finally, add the cornstarch mixture and mix until for 1 minute until well blended and thickened. Turn off the heat, transfer to a serving platter and serve immediately.
---
Step-By-Step Tutorial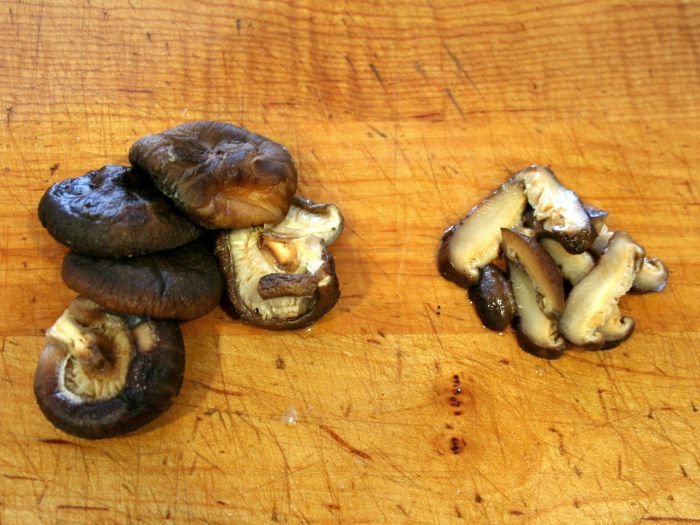 Before you really get started, there's one prep step that I frequently forget. Soak the Chinese mushrooms in hot water for 30 minutes until they're soft. Drain, reserving 1/2 cup of the liquid, discard the stems and slice the caps into thin strips.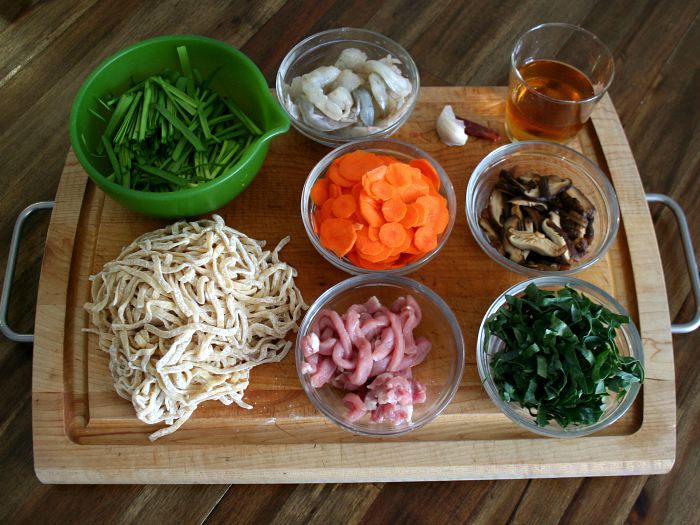 Next, gather the rest of the ingredients. This is going to take a while, likely about 30 minutes or so. You need to peel and devein the shrimp, cut the pork into match sticks, shred the cabbage, slice the carrots, crush the garlic and cut up the chives. Don't get frustrated — all this rather tedious work is the most important part of the recipe!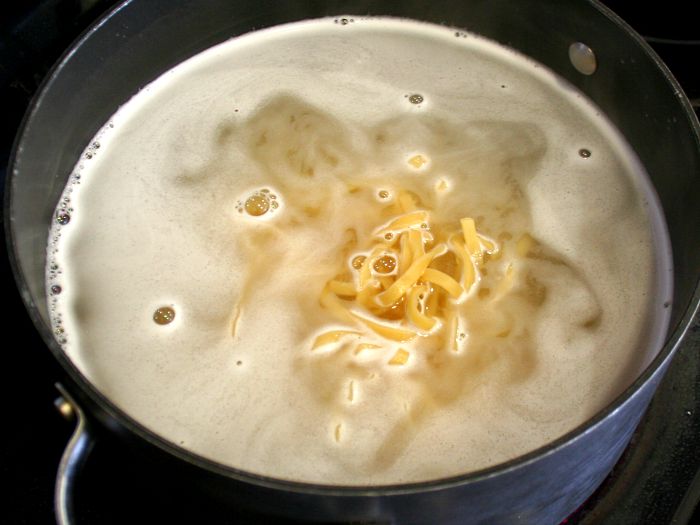 When you're done with the prep work, boil the noodles for two minutes. Pull them apart in the pot with a pair of chopsticks. Plunge them in ice water when they're done, drain them and set them aside.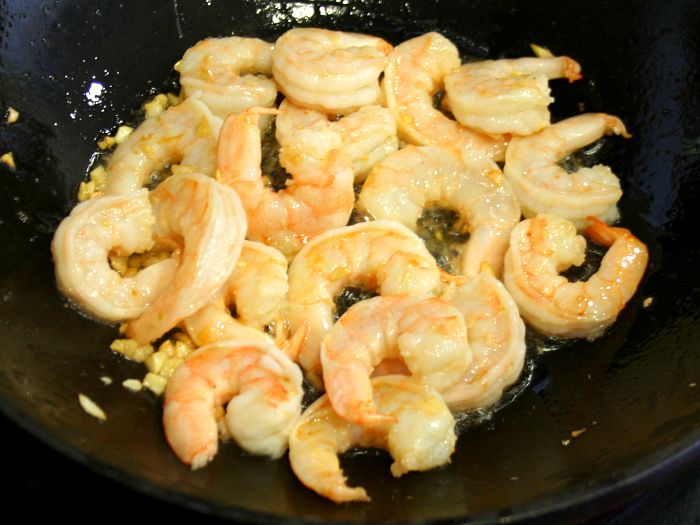 Heat the oil in a hot wok, add the garlic and then stir fry the shrimp for two minutes until they pink up nicely.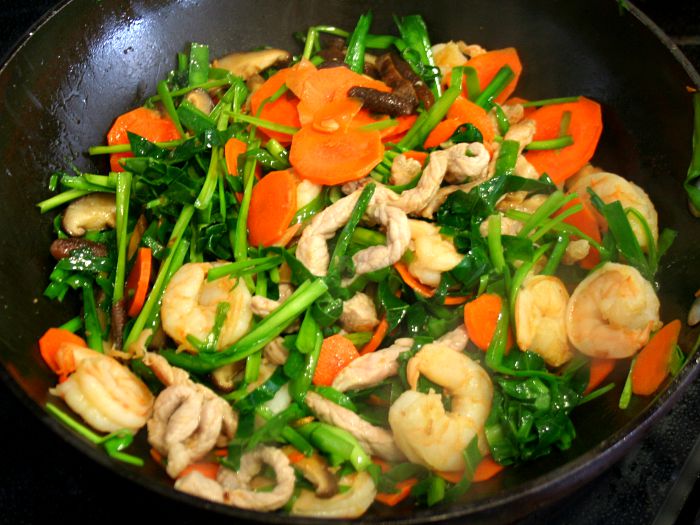 Add the pork strips and the vegetables and stir fry for another two minutes.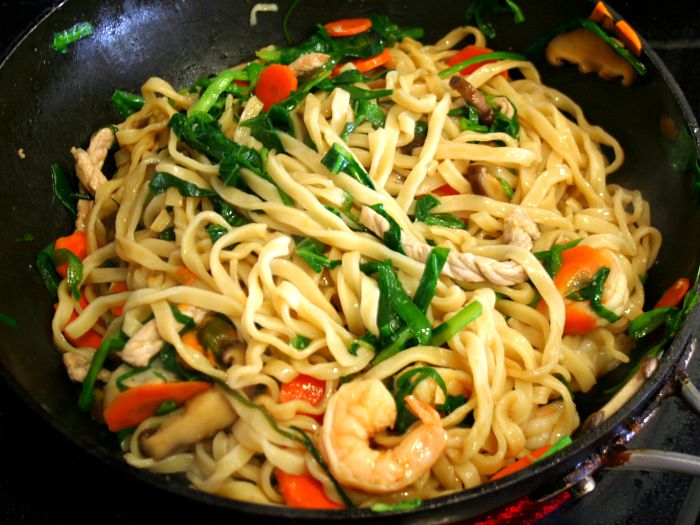 Pour in the reserved mushroom water, bring to a boil and then add the noodles, soy sauce, oyster sauce and salt. Finally, add the cornstarch mixture and bring back to a boil. Stir well for one minute until the ingredients are mixed up and the sauce has thickened.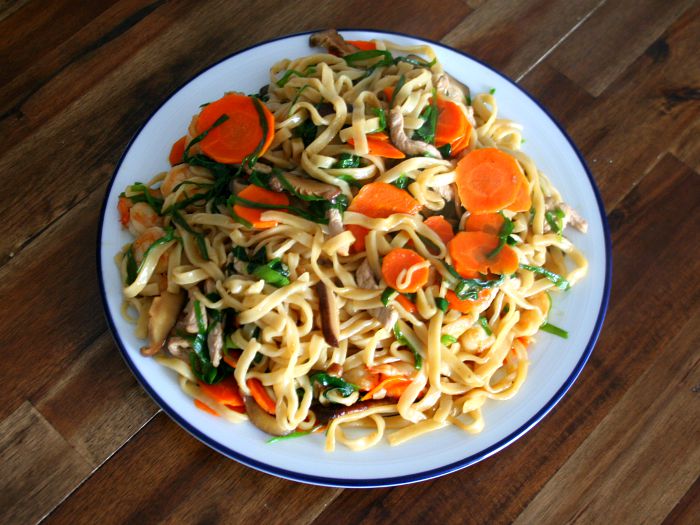 Remove the noodles from the heat, transfer to a platter and serve immediately.
HT: Recipe adapted from Chinese Feasts & Festivals: A Cookbook.