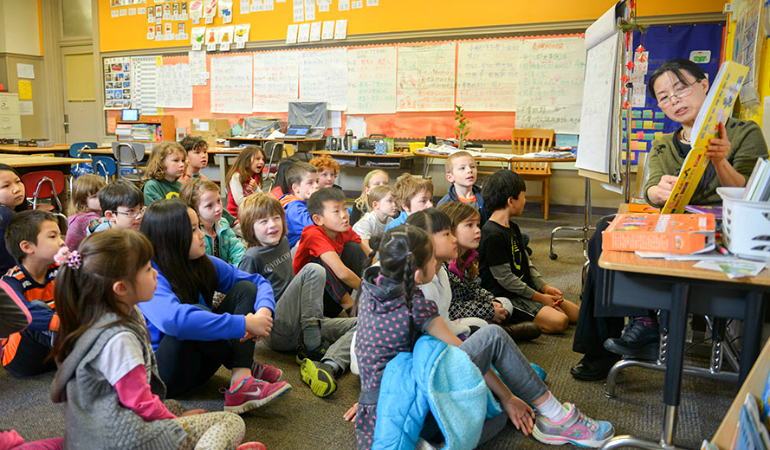 When I first researched Chinese American children's books online, I couldn't make sense of what I found. The books available broadly spanned topics ranging from Chinese history and customs to life in Chinatown and ancient folklore. What I lacked was a filter to help me evaluate the options, as well as provide a sense for how I could incorporate Chinese culture into my son's American childhood in a natural and organic way.
Find Good Stories Told Well
Alisha Berger, a global literacy program officer at Room to Read and formerly a senior editor at Penguin Group, guided me to focus first on strong storytelling. "The best children's books feature universal storytelling that anyone can access," she says, "Great authors reflect all of their characters in a positive light, without relying on ethnicity and culture to carry the story." In other words, I would be seeking great storytellers writing on subjects related to Chinese culture, rather than simply a book with an obviously Chinese storyline.
Choose a Meaningful Theme
Both Berger and Mia Wenjen, who covers parenting, children's literature and education at PragmaticMom, recommended I next find a theme that would resonate with both me and my son. "I think it's important for kids to find themselves in children's books," Wenjen says, "Which is to say — examples of characters that serve as role models and not as stereotypes." Given my own background, I decided to focus on the 2nd generation Chinese American experience, though just as easily could have chosen Hapa kids or multicultural families.
Provide the Tools to Dream
In what he called the "apartheid of literature" in his March 2014 piece in The New York Times, Christopher Myers observes that African American characters "…are limited to the townships of occasional historical books that concern themselves with the legacies of civil rights and slavery." Applied to the Chinese American experience, I similarly didn't only want books about building the transcontinental railroad or mystical folk tales. I wanted inspiring stories with characters who would spark in my son what Myers calls "…the lands of adventure, curiosity, imagination [and] personal growth."
With this checklist in mind, I'm happy to share a list of favorite children's books that I've shared with my son, spanning the range of Chinese holidays and the different aspects of the Chinese American experience.
---
Chinese New Year
---
Dragon Boat Festival
---
Hungry Ghost Festival
---
Mid-Autumn Festival
---
Chinatown
---
Chinese Food
---
Chinese American Life
---
Chinese American History
HT: Photo by the Asia Society.