Jump start your family's celebration with our Chinese New Year Decorating Kit. These holiday essentials will help you fill your home with good fortune when the Year of the Dog arrives on February 16.
This time-saving collection of lucky decorations includes a helpful guide with translations, cultural tips and links to resources at Chinese American Family.
All this for just $20, shipping included.
(Order by February 3!)

WHAT'S IN THE KIT?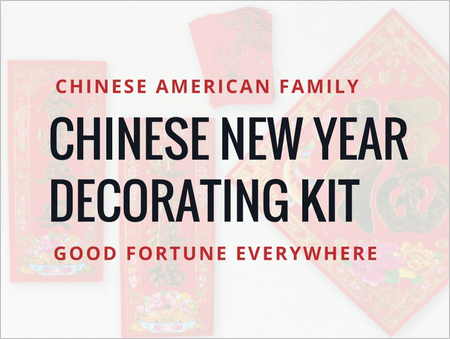 CHINESE NEW YEAR DECORATING KIT
This family-friendly, time-saving kit includes:
Good fortune door banner.
Poetic lucky wall banners.
Year of the Dog red envelopes.
Playful dog hanging decoration.
Small and medium calligraphy banners.
Bonus! Guide with translations, cultural tips and more.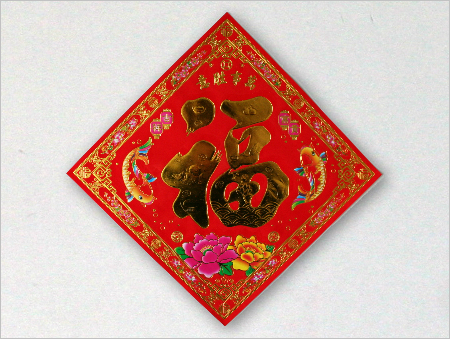 GOOD FORTUNE DOOR BANNER
Welcome good fortune into your home:
Large 13" door banner (1) with a multi-color, gold-embossed design.
Beautifully decorated with auspicious symbols like lanterns, fish and peonies.
The Chinese character for good fortune invites good luck and blessings into the home.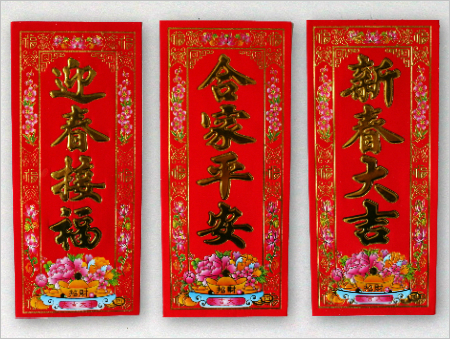 POETIC LUCKY WALL BANNERS
Share your hopes for the coming year:
Poetic wall banners (3) expressing hopes for prosperity, health and happiness.
Decorated with peonies, lotus flowers and gold ingots for luck.
Complete translations and decorating tips included.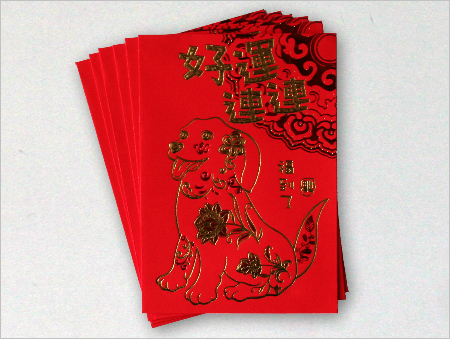 YEAR OF THE DOG RED ENVELOPES
Give the perfect "lucky money" gifts during Chinese New Year:
Festive Chinese red envelopes (6) decorated with a gold dog.
Characters wish the recipient good luck and blessings in the new year.
Appropriate for friends, family and colleagues.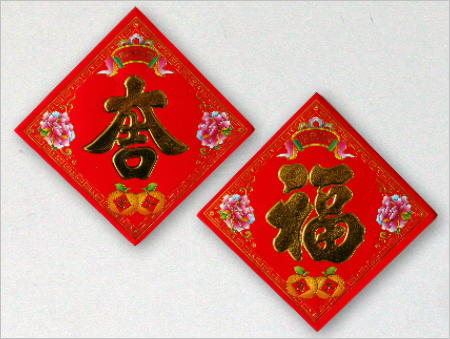 MEDIUM CALLIGRAPHY BANNERS
Spread luck throughout your home:
Medium 7" calligraphy banners (2) are ideal for secondary spaces like a kitchen or family room.
Characters express hopes for abundance and good fortune.
A great size for displaying by your home office desk or work space.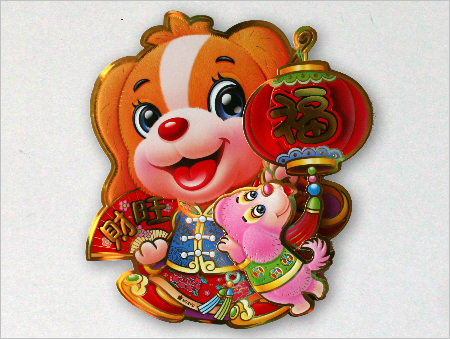 PLAYFUL DOG HANGING DECORATION
Add extra cheer to your play room or child's bedroom:
Hanging decoration (1) featuring a playful dog, this year's zodiac animal.
Traditional clothing, a lantern and a fan add whimsy and festivity.
Classic red and gold welcome luck and prosperity.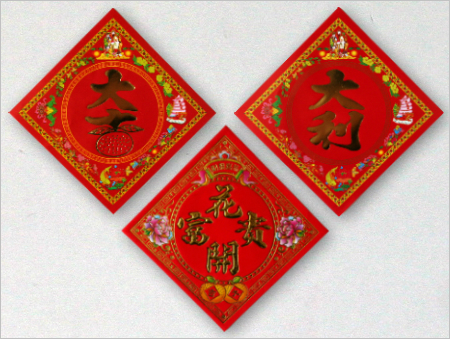 SMALL CALLIGRAPHY BANNERS
Bring luck to every corner of your home:
Small 5" calligraphy banners (3) are perfect for spaces like the pantry or a closet.
Characters express wishes for good fortune, abundance and blessings.
The perfect size for decorating a child's spaces in the home.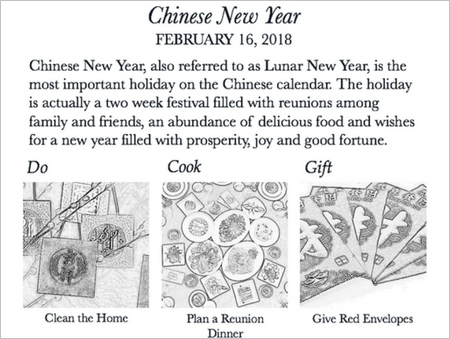 BONUS! QUICK START GUIDE
Answer your child's questions about Chinese New Year:
Translations for all the Chinese characters included in the Decorating Kit.
Cultural tips and explanations for Chinese New Year traditions and symbolism.
Links to more resources at Chinese American Family.
All this for just $20, shipping included.
(Order by February 3!)
---
Thank you for understanding should product availability require minor substitutions.