I'm thrilled when I discover companies that create exciting new products by purposefully mixing traditional and contemporary Chinese culture. The results feel fresh and bright, hyper-focused on quality and awash in new possibilities for those seeking to bring Chinese traditions into daily life.
As a result, it should be no surprise that I'm excited to introduce you to Lucy Young and her company Paper Tiger Shanghai, a creator of gift wrapping papers with innovative designs inspired by traditional Chinese art, Shanghai's art deco period and Beijing's hutong past.
After being born and raised in New York, Lucy has lived and worked in Asia since 1993, hopscotching among vibrant cities like Hong Kong, Singapore, Beijing and Shanghai with her husband and two children. She founded Paper Tiger Shanghai in 2006 and distributes her collections of gift wrapping paper online and at select shops in Shanghai and Beijing.
Paper Tiger Shanghai's designs incorporate diverse Chinese influences like classic lattice patterns, traditional holiday icons and cityscapes ranging from historic lanes to modern glass and steel towers. The designs feel distinctively Chinese while capturing the festive sensibility inherent in gift giving.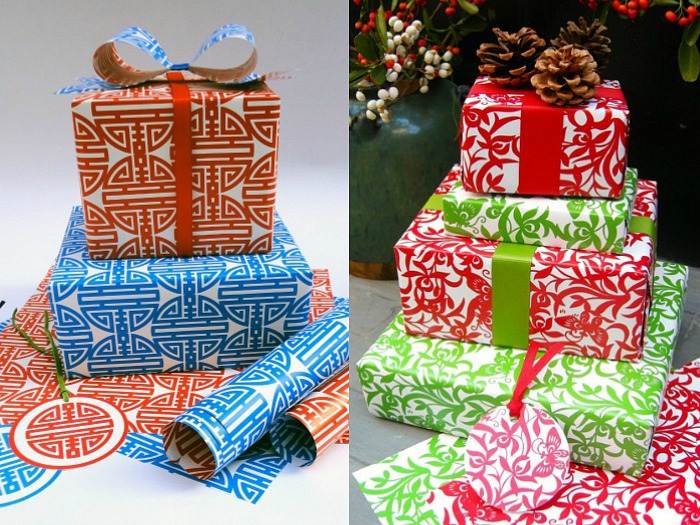 Paper Tiger Shanghai helps solves an important problem for American gift givers. While it remains challenging to find high quality Chinese-inspired gifts outside of wonderful stores like Red Blossom Tea Company and Jade Chocolates, it's equally difficult to find related accessories like gift wrapping paper. Most of what you find is clichéd to the point of parody.
Here in the United States, we give gifts for every occasion from baby showers to Mother's Day. When you find that perfect Christmas or birthday gift for family, friends and other lovers of Chinese culture, Paper Tiger Shanghai's wrapping papers strike me as the perfect way to complete the package with style.
Paper Tiger Shanghai's gift wrapping papers are reversible, with complementing patterns or colors on either side. They're produced as sheets measuring 23.6″ x 34.2″ and are printed on 100% recycled paper using soy-based ink.
I asked Lucy about her inspiration for designing gift wrapping paper, the different ways her products are incorporated into Chinese gift giving culture, her 'go to' ideas when looking for gifts in Shanghai and much more:
—
Why do you make wrapping paper that incorporates Chinese culture and what's the story behind how you got started?
I started Paper Tiger Shanghai after unsuccessfully trying to find wrapping paper in Shanghai that reflected Chinese design and culture. I did a lot of research online too, convinced that there was paper out there with Chinese motifs, and was surprised that the only things that would show up were calligraphy-style designs in very dark, somber colors. Nothing reflected the rich, dynamic range of Chinese design. I had to do something about it.
How do you pick the designs to turn into wrapping paper? How do you adapt traditional designs to make them fresh and new?
My design inspiration comes from the city I live in — Shanghai and my travels around China. Inspiration is everywhere — from architecture (mainly from the 1930's), ancient temples, Chinese patterns, flowers and trees, local life in the lanes…it all comes into play. Chinese traditional design tends to be ornate, multi-layered and somewhat formal. I like to look at these patterns and focus in on one element — enhance it and have a bit of fun with color too. I feel this refreshes these beautiful designs and makes them pop.
How have you seen your wrapping paper incorporated into Chinese gift giving culture? Who have you found enjoys your wrapping papers the most?
I see a lot of crafting use with my paper, which makes me so happy. Seeing my paper used in different and creative ways is a thrill. Gift giving in the traditional Western practice is still in its infancy here. Chinese gift giving is still red envelopes or fruit (baskets). My main customer base is still the international community in Shanghai. For the international community, being an 'outsider' looking in, they tend to be drawn to cultural icons, and then like to see these images on items that they are accustomed to or are part of their own culture — such as wrapping paper, notecards and tea towels. I have a really supportive following of people who love paper and gift wrapping.
How have you seen gift giving practices in China change since you started your business in 2006? What holiday prompts the most demand for your wrapping paper?
The Christmas holiday season is the most demanding time for me. There is something very special about giving that gift found in Shanghai and all wrapped up like it, too.
What's your favorite holiday to celebrate in Shanghai these days? What are some of your 'go to' gifts?
I love Chinese New Year season in Shanghai. The city is awash red and gold and the celebration of a new lunar year and the upcoming spring season makes the city extremely festive and the mood happy and hopeful. My 'go-to' gifts are anything that is made locally. Shanghai has a diverse community of independent designers and I always love giving friends and family something made by one of these talented people. My other go-to's are anything edible!
—
Thanks so much to Lucy for this interview! To learn more about her collection of gift wrapping papers, visit Paper Tiger Shanghai today.
Your turn! Are you familiar with Paper Tiger Shanghai? What inspiration do you draw from Lucy's experience?