This recipe is part of our collection of Chinese holiday and festival foods. Sign up for our newsletter to receive family-friendly activity, recipe and craft ideas throughout the year!
In case you're not familiar, rice dumplings are the traditional food most associated with the Dragon Boat Festival. Known as zongzi in Mandarin and joong in Cantonese, rice dumplings are parcels of glutinous rice stuffed with different savory or sweet fillings and wrapped in bamboo leaves. They're eaten during the Dragon Boat Festival to symbolize the glutinous rice balls the villagers tossed into the Miluo River while searching for the poet Qu Yuan.
This year, my family made rice dumplings together for the first time. Preparation takes the better part of a day, making it both a really fun family activity and something that's probably best reserved for a special holiday occasion. Aside from learning to wrap and tie the dumplings, which does take some practice, I learned that making rice dumplings isn't especially difficult, so have no fear if your family are beginners like we were.
The process to make rice dumplings actually began the day before we hit the kitchen. I visited Chinatown to pick up a few ingredients we didn't have in our pantry: glutinous rice, dried mung beans, dried bamboo leaves, dried peanuts, dried Chinese sausage, a piece of pork belly and kitchen twine. M&A Cash & Carry, a dried goods store in Oakland Chinatown, helpfully had all of these items for local would-be rice dumpling makers carefully arranged together in bulk bins, so I could buy only what I needed.
Here's how to make rice dumplings, step-by-step. The detailed tutorial with pictures and directions is at the bottom of the page.
Your turn! What tips can you share from your family's recipe? Want to ask a question before you start cooking? I'd love to hear from you in the comments section below!
---
Rice Dumplings Recipe
Makes: 25 Dumplings | Prep Time: 1 Day | Cook Time: 6 Hours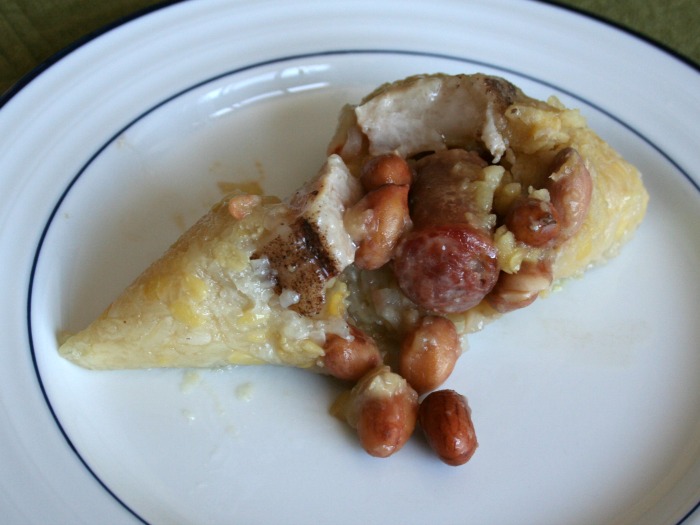 Ingredients
50 dried bamboo leaves (20″ size)
1 1/2 cups uncooked glutinous rice
1 1/2 cups dried mung beans
1 tablespoon salt
1 pound pork belly
3/4 teaspoon Chinese five spice powder
1/2 teaspoon ground white pepper
3/4 teaspoon salt
2 cups dried peanuts
5 dried Chinese sausages
25 lengths of kitchen twine (60″ apiece)
Directions
1. Cover the dried bamboo leaves with water in a large baking dish and soak overnight.
2. Cover the glutinous rice and mung beans in separate pots or bowls with warm water and soak for 5 hours.
3. Steam the pork belly in a bamboo steamer for 20 minutes. Slice the pork into 25 pieces and then season with the five spice powder, white pepper and 3/4 teaspoon of salt.
4. Slice each dried Chinese sausage into 5 pieces.
5. Drain the glutinous rice and mung beans, combine in a dry bowl with the 1 tablespoon of salt and stir well.
6. Create your rice dumpling filling station by placing the glutinous rice and mung bean mixture, the sliced pork belly, the sliced Chinese sausages and the dried peanuts in bowls on a cutting board. Drain the bamboo leaves and place nearby.
7. For each dumpling, place 1 tablespoon of the glutinous rice and mung bean mixture into a cone formed by two overlapping bamboo leaves, followed by the sliced pork belly, the sliced Chinese sausage and a few dried peanuts, and then cover with 2 more tablespoons of the glutinous rice and mung bean mixture. Fold down the ends to form a tight pyramid and then bind with kitchen twine. Use up all the filling ingredients to create 25 dumplings.
8. Place the dumplings in a large pot of boiling water and boil for 6 hours, adding more water as needed to keep the dumplings covered. At the end of 6 hours, remove the dumplings from the water and allow them to dry.
9. Unwrap the dumplings carefully and serve hot, freezing any leftovers to reheat in the future.
---
Step-By-Step Tutorial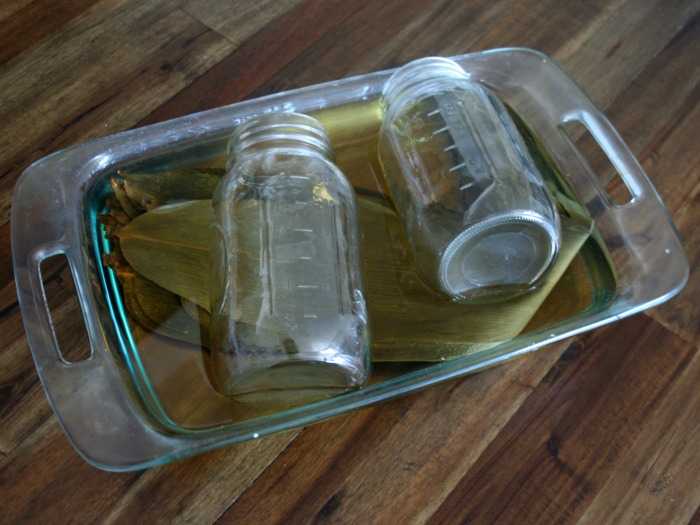 The first step is to soak your bamboo leaves overnight, so they're flexible enough to make wrappings without breaking. I used a large baking dish with a couple of canning jars as weights. That's it. Go to sleep for the night.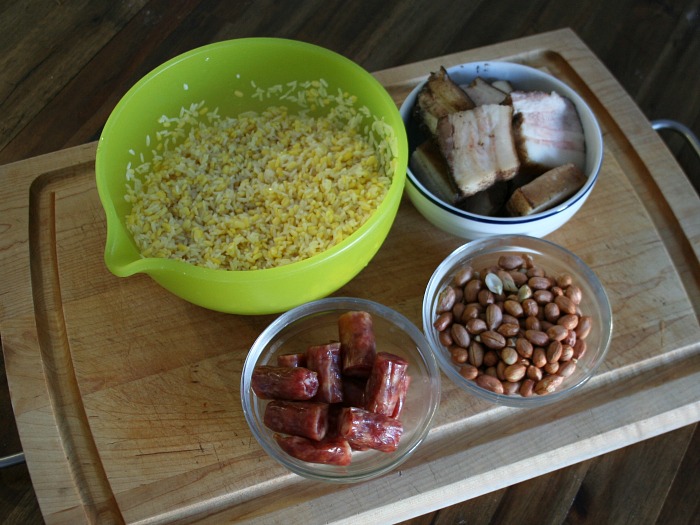 In the morning, prepare the rest of your filling ingredients. First, soak your glutinous rice and mung beans for 5 hours. I just put them in pots on the stove and stirred occasionally. Next, steam and then season your pork belly. Arrange your rice, mung beans, pork belly, Chinese sausage and dried peanuts in bowls to create a wrapping station.
If you started your rice and mung beans soaking early in the morning, then you should be ready to start making rice dumplings by early afternoon. This is the time to grab your spouse, parents, kids and anyone else who might be in the house.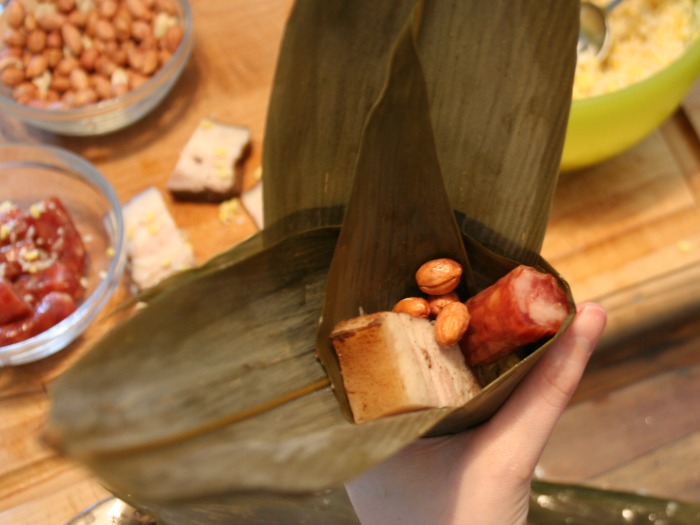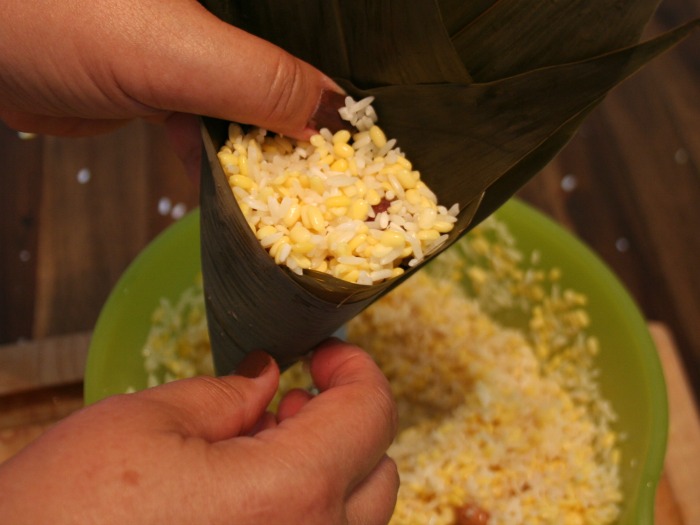 The trick to making a rice dumpling is wrapping and tying it into a pyramid with all the corners closed, so that the filling doesn't spill out during cooking. Rice and mung beans are really small, so this means you really have to wrap the corners tightly!
It helps to work in teams. We had one person hold two bamboo leaves vertically with a slight overlap, then twist them in the middle to form a cone. It looked like a Japanese sushi hand roll, if you're familiar with those.
From there, you add the fillings, scoops of rice and mung beans, followed by pork belly, sausage and peanuts, and then topped again with rice and mung beans.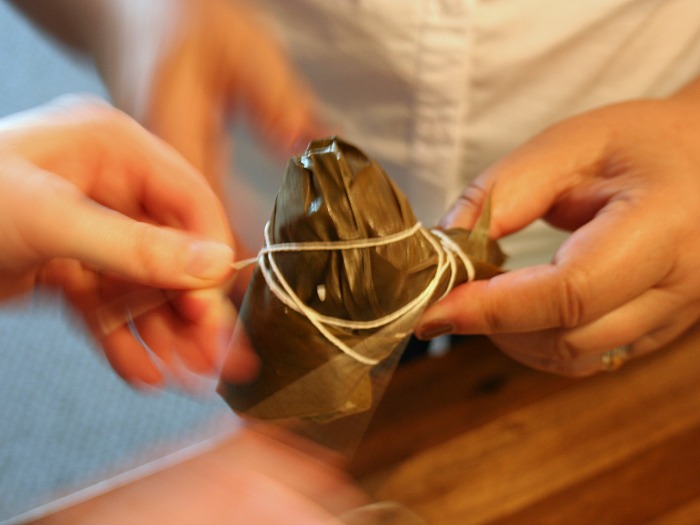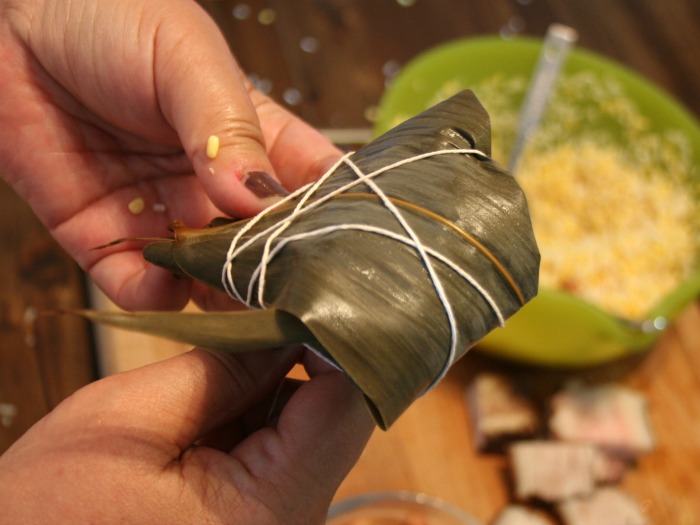 Now here's the tough part. The person holding the rice dumpling needs to fold down both loose ends of the bamboo leaf cone over the top and sides of the package to form a tight pyramid shape. Make sure your corners are sealed! It took us a few tries to get it right.
At this point, the second person on the team should swoop in with kitchen twine to bind the dumpling together on all sides. The rice dumplings you buy in Chinatown will look prettier, but really all that matters is that you've successfully closed the dumpling.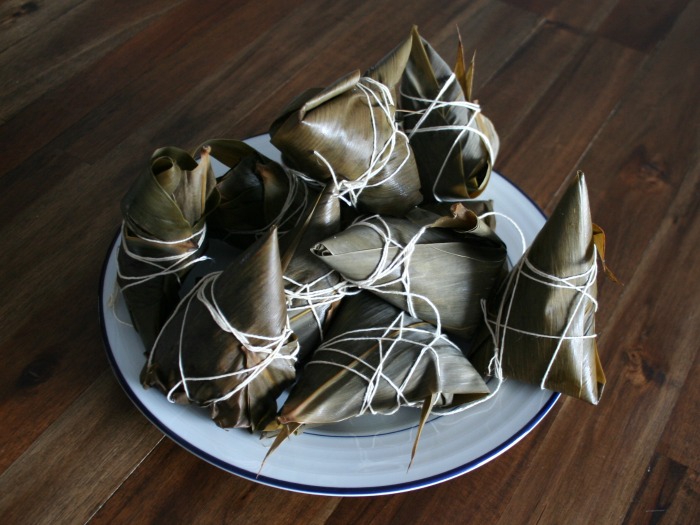 Fill, wrap and repeat until all of your supplies are exhausted. For us, it was a couple of hours filled with lots of conversation and laughter, as we all stood around the table making our best efforts. It was great — after all, the family time really is the point of the entire exercise. At the end, we also had a beautiful pile of rice dumplings!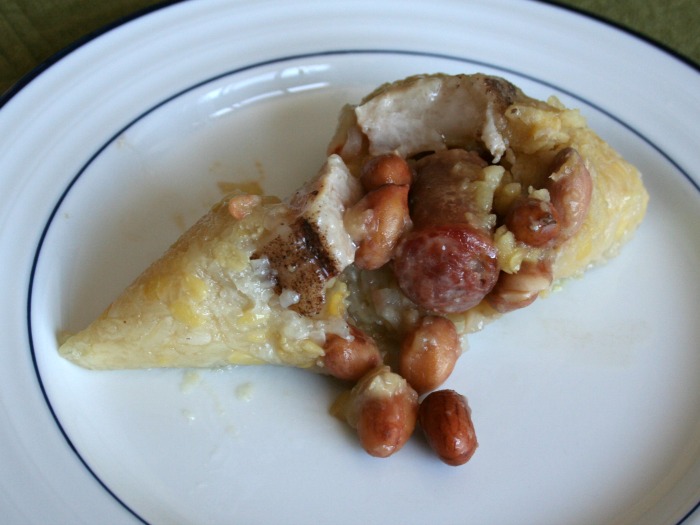 Once you've made all your dumplings, the last step is to boil them for six hours. I used our crock pot for this last task and left it sitting on high through the early evening, so that we weren't tied to the kitchen. Once the time is up, you can either eat the dumplings immediately or freeze them for the future. In the latter case, just boil a frozen rice dumpling for 30 minutes to reheat.
Making rice dumplings for the Dragon Boat Festival was awesome! It's a full day family activity that requires precise attention to a set of preparation steps and a quick trip to Chinatown, but little else in terms of special supplies or expertise. The results of our cooking project were delicious and with 25 rice dumplings in the freezer, there's plenty for future meals or for gifts around the neighborhood.
HT: Recipe adapted from Chinese Feasts & Festivals: A Cookbook.