This recipe is part of our collection of Everyday Chinese Meals. Sign up for our newsletter to receive family-friendly activity, recipe and craft ideas throughout the year!
Given that most Chinese holidays are family affairs, they're not really big drinking events past perhaps some wine or a traditional liqueur at dinner. Contemporary Chinese cocktail culture mostly lives online, at hip bars in major Chinese cities and on the menus of fancy Western restaurants.
It's increasingly common, however, for younger adults to gather with friends during holidays like Chinese New Year and at house parties during work breaks like the Labor Day weekend. Here's how to think about adding a memorable Chinese influence to your next cocktail menu.
Living on the leading edge of Chinese cocktail culture requires baijiu, the native firewater that's both the world's most consumed liquor by volume and still relatively unknown outside of China. Derek Sandhaus, author of "Baijiu: The Essential Guide to Chinese Spirits," has created this chart of recommended bottles across prices points, along with basic tasting notes for drinkers new to this clear, 80-120 proof alcohol most commonly distilled from sorghum.
When mixing cocktails, Sandhaus writes that baijiu's sweet and fiery character means it mixes in a similar manner to rum, making citrus the perfect complement. If you prefer to drink baijiu more traditionally, that is straight and as a mealtime accompaniment, Lost Laowai provides a helpful guide to common domestic brands and China Hope Live humorously discusses baijiu's place in everyday drinking culture.
Inspired by the grapefruit-based No Regrets cocktail Sandhaus described on his blog, I recently secured a $10 bottle of Red Star Erguotou, a light Beijing-style baiju, and got to work. Sampling the clear spirit before mixing my cocktail, I discovered that the baiju's light, sweet flavor masked a fiery finish that quickly followed. Deceptively mellow at first, baiju definitely packs a 100+ proof punch.
I was encouraged to continue after my baiju baptism, so I quickly juiced a pink grapefruit and combined the juice with baiju, simple syrup, mint and pomegranate seeds in a shaker. My adaptation of the No Regrets produced a smooth, tart cocktail — a sweeter Greyhound or a more citrusy Moscow Mule. The alcohol's strength meant that I could envision drinking the cocktail indoors or at night, rather than at an afternoon backyard grilling party.
Past using Chinese spirits, you can incorporate Chinese influences through lucky ingredients or a particular regional inspiration. You'll find many American bar menus today populated with drinks containing Chinese five spice or ginger, while mixologists like Priscilla Young from the Mandarin Oriental in Los Angeles create drinks like the Mandarin Illumination to capture the spirit of China. Even Cathay Pacific Airways holds competitions in Hong Kong to produce signature cocktails for its premium international cabins.
Finally, if the lychee martini retains a special place in your heart from Sarah Jessica Parker's turn-of-the-century, Cosmopolitan-fueled New York, here are five tips from Lychees Online to make sure you're mixing a great version. However, when you're ready to step into more daring territory, here are four easy recipes you can use to mix Chinese flavors into your cocktails at home.
---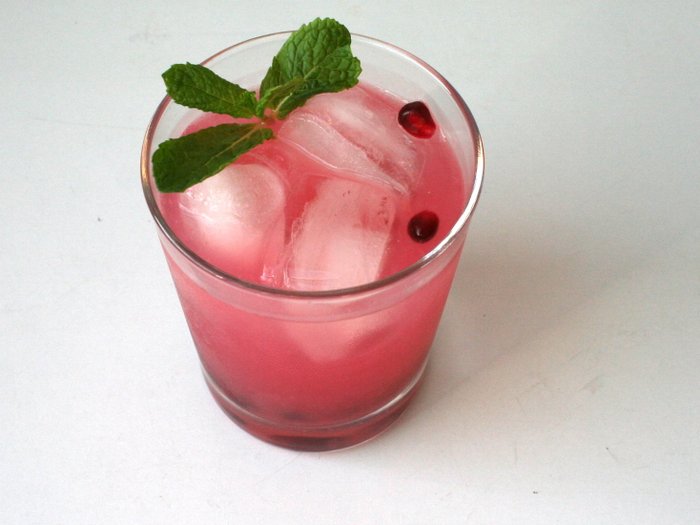 From Our Kitchen: No Regrets
1 1/2 ounce Red Star Erguotou (or other light aroma baiju)
1 1/2 ounce pink grapefruit juice
1/4 ounce simple syrup
Mint and pomegranate seeds
Squeeze of lime
Preparation: Muddle the mint and pomegranate seeds in a shaker. Add baiju, simple syrup, grapefruit juice and ice. Shake for approximately 15 to 20 seconds. Strain into a glass and garnish with mint, pomegranate seeds and a squeeze of lime.
---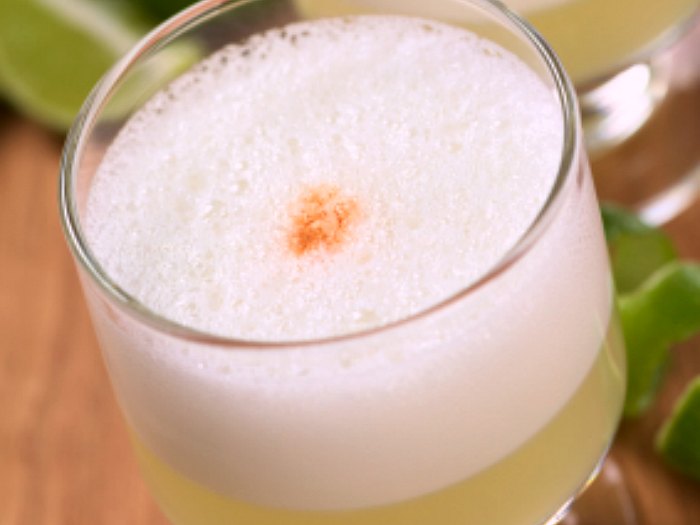 For the Baijiu Beginner: The Baijiu Sour
1 1/2 ounce Vinn Baijiu
1/2 ounce lime juice
1/2 ounce grapefruit juice
1/2 ounce rich simple syrup
1/4 egg white
3 drops Fee's Old Fashioned Bitters
Preparation: Dry shake egg white. Shake egg whites with the other ingredients sharply with ice. Strain, but do not double strain, into a rocks glass. Add 3 drops of Fee's Old Fashioned Bitters.
HT: Boozenik.
---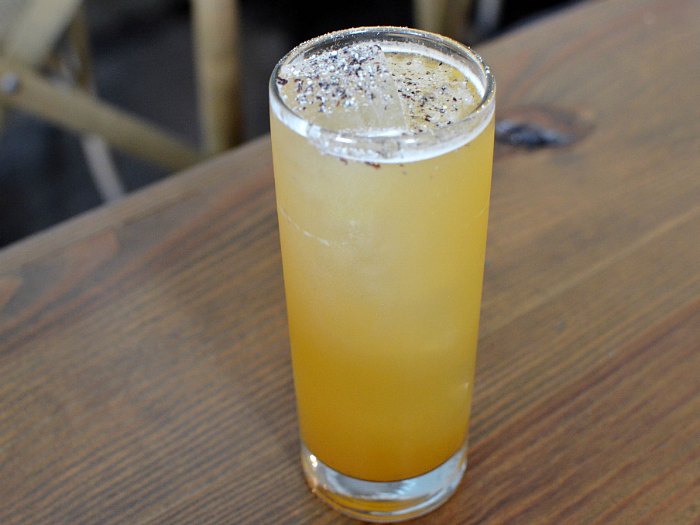 For the Chinese Spice Lover: The Fairmont Chinese Five Spice Fizz
1 slice fresh ginger
1 1/2 ounce Rémy Martin VSOP
3/4 ounce fresh lemon juice
3/4 ounce Chinese five-spice syrup
2 ounces soda water
Candied ginger and lemon wedge as garnish
Preparation: For the syrup, combine 1 tablespoon five spice powder, 2 cups of sugar and 2 cups of water in a saucepan. Stir over high heat until the sugar has dissolved; bring to a boil. Remove from heat immediately and let steep for one hour. Strain and pour the cooled syrup into a storage container.
For the cocktail, add ginger slice to a cocktail shaker and muddle with a spoon or muddler. Measure in Cognac, lemon juice and 3/4 ounce Chinese five spice syrup, fill with ice and shake vigorously. Add soda water to shaker and then pour into a glass, adding more ice if needed. Garnish with candied ginger and a lemon wedge on a pick.
HT: Fairmont Hotels.
---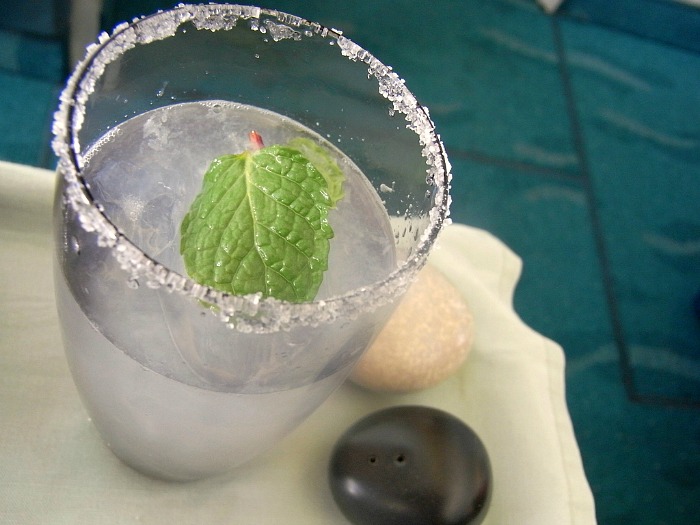 For the International Jetsetter: The Cathay Pacific Cloud 9
1 1/2 shot Absolut vodka
Dash of Cointreau
Juice of half a lemon
Dash of sugar syrup
Handful of mint leaves
Lemonade, to top up
Preparation: Coat the rim of a glass with sugar. In a shaker, muddle the mint leaves and squeeze in the lemon juice. Add the liquor and syrup and shake briskly over ice for a few seconds. Pour into the glass and top up with lemonade. Garnish with mint leaves and a slice of lemon.
Your turn! What are your favorite cocktails with Chinese flavors? I'd love to hear from you in the comments section below!