This article is part of our Mid-Autumn Festival Family Guide. Sign up for our newsletter to receive our best activity, recipe and craft ideas before every Chinese holiday.
In its themes and spirit, the Mid-Autumn Festival most closely resembles Thanksgiving among American holidays. It's a time during the changing of the seasons to enjoy the pleasures of family togetherness. And, of course, there's plenty of delicious food involved!
Planning for a family Mid-Autumn Festival celebration is like organizing a dinner party followed by an outdoor evening picnic. Unless you live near Chinatown, however, you probably won't notice much hubbub around you as you plan for the holiday. Unlike Thanksgiving, there are no days off for the Mid-Autumn Festival here in the United States, nor any football games to discuss over the water cooler or Black Friday shopping to do. Heck, the Mid-Autumn Festival might even fall on a school night for the kids!
All this means that you may have to be a bit more organized and determined as you get ready for the holiday. Expect to prepare for the Mid-Autumn Festival on the weekend before the holiday, so that everything goes off smoothly on the big evening.
There are two components to the night: a) a family dinner; and, b) an outdoor picnic under the moon. As almost everything for the celebration can be bought or ordered in, the evening can be as simple or elaborate as you choose. Given the time pressures we all face, I would suggest picking some elements from the checklist below to outsource, while retaining a few items to create at home as cherished traditions for your own family.
Here's a step-by-step guide to planning a perfect family celebration for the Mid-Autumn Festival.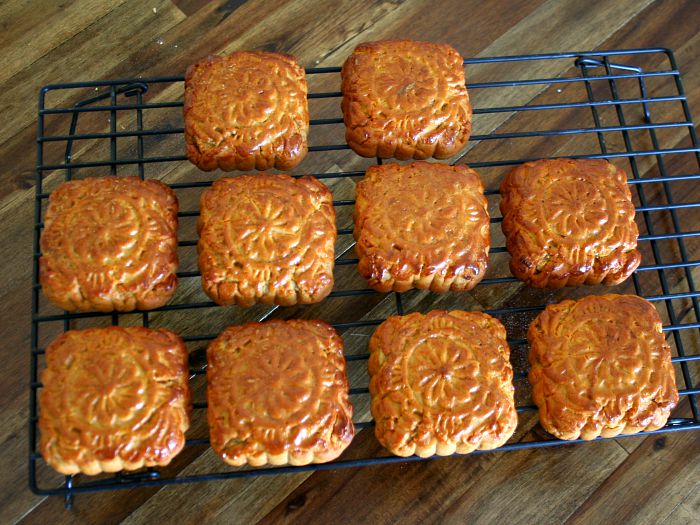 The Weekend Before
1. Pick your venues and invite your family
Some families eat a reunion dinner at a local restaurant before returning to the backyard at home for mooncakes and tea. Others will stay at home for dinner and go to a local town square or park for moongazing, if they expect others to be out as well. Either way, you'll want to choose your dinner and picnic venues and invite your close relatives to attend.
2. Buy or bake mooncakes
You'll want to have mooncakes on hand to gift to close friends and relatives, as well as to enjoy at your own celebration. Use my Mooncake Buyer's Guide, if you're ordering from a Chinatown bakery, or my Mooncake recipe, if you're planning to make your own. Mooncakes are typically gifted in tins of four, though you can also wrap a single mooncake nicely, if you're giving someone a mooncake you've made yourself. It's also traditional to buy 13 mooncakes for your own family's celebration to bring good luck for an entire lunar year…but that's a whole lot of mooncakes. Use your discretion.
3. Select decorations and ritual offerings
Lanterns, candles and incense are the primary items you'll need. Lanterns are both a great decoration and a fun children's toy. Use my Lantern Buyer's Guide, if you're ordering from Amazon, or my Lantern tutorial, if you want a fun family crafting project. Ancestors are honored by burning candles and incense — while you can use common candles you have around the house, you'll want to visit Chinatown for the incense or pick up some like these examples on Amazon.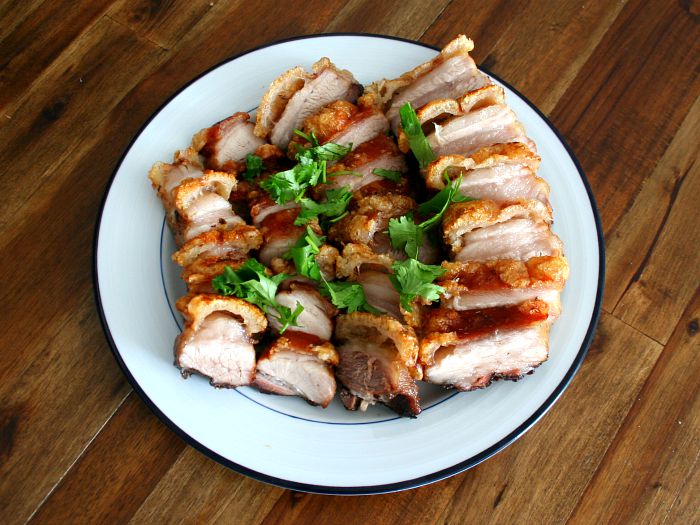 Two Days Before
4. Plan and shop for your Mid-Autumn Festival dinner and honor table
The dinner menu typically includes 5, 7 or 9 symbolically significant dishes like a whole chicken, roast pork, fish, vegetables and rice. In addition to mooncakes, picture pastries and a tea service, the most common foods to include at your Mid-Autumn Festival honor table are round fruits like apples, pomelos, Asian pears, grapes, peaches and melons. Like all things Mid-Autumn Festival, a round moon-like shape symbolizes family unity and togetherness.
5. Prepare the Mid-Autumn Festival dinner
Many traditional festival dishes, such as roast pork, require advanced preparation or overnight marinating. Given how much there is to do on Mid-Autumn Festival day itself, you'll also find it helpful to prepare any cold dishes ahead of time to save your energy. If you're planning to order in any of your dinner items like a roast duck, for instance, it's a good tip to buy these ahead of time, as well.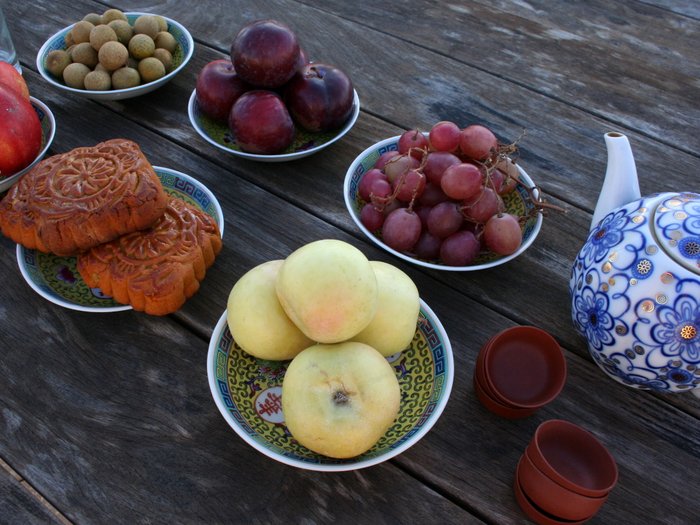 Mid-Autumn Festival Day
6. Set up your honor table
An honor table can be a small bench you set up next to a picnic blanket at a park or an end table you lug up to your apartment building's roof deck. The point is more to have a nice organizing place to arrange your mooncakes, sweets, fruits, tea and ritual offerings. Find a nice place to hang your lanterns, too, for when they're not being swung around by your kids.
7. Celebrate!
Celebrate the Mid-Autumn Festival by dining with family and then congregating outside under the full moon sipping tea, eating mooncakes and swapping stories. In keeping with the story of Chang'e and Hou Yi, it's traditionally a time to moon gaze, reminisce about family members who have passed away and to remember loved ones who live far away. Kids are allowed to stay up late and parade around with their lanterns. Ancestors are remembered by burning incense and bowing three times in front of the honor table. It's also a great opportunities for the older generation to share stories with the children or to read from a book of Chinese poetry such as what you'll find in Chinese and English Nursery Rhymes by Faye-Lynn Wu or Maples in the Mist by Minfong Ho.
Your turn! Can you share any tips from your experience celebrating the Mid-Autumn Festival? Want to ask a question before you celebrate with your family? I'd love to hear from you in the comments section below!